"Christmas waves a magic wand over this world, and behold, everything is softer and more beautiful."
- Norman Vincent Peale


"The best way to find yourself is to lose yourself in the service of others." -(Gandhi)
"We make a living by what we get, but we make a life by what we give." (Winston Churchill)

Telegram, 17 December 1903

Orville Wright (1871 - 1948) US "inventor, aviation pioneer." The telegram was written to Milton Wright --Orville and Wilbur's father, looking forward to being home for Christmas

"Success. four flights thursday morning. all against twenty one mile wind. started from Level with engine power alone. speed through air thirty one miles longest 57 second inform. Press home Christmas




PLACES TO GO TO CHECK OUT FAMILY FRIENDLY FILMS:
1) films, DVDs,TV shows (Click & Go)
2) Movies (Click & Go)



GIFTS to give every day
....Without spending a penney

Praise
Consideration
Saying "I am Sorry"
Gratitude "Thank you"
Attention
Inspiration. Planting seeds of courage & action in others' hearts
Personal Presence


Good Gifts.
Listen .Laugh .Love



"Hark, the herald angels sing,
"Glory to the new-born king.
Peace on earth, and mercy mild, God and sinners reconciled!"
Charles Wesley (1707 - 1788) English, clergyman, poet, hymn writer.

Making music is good for our health.


"It is a good thing to give thanks unto the Lord and sing praises unto thy name O most high" (Psalm 92:1)




THE FIRST CHRISTMAS
Retell for young children in your own words - Sample......

Once upon a time, long, long ago, a woman named Mary and a man named Joseph were traveling along a road which led into the village of Bethlehem. Mary was riding on a donkey while Joseph led the donkey by a rope while walking beside her.

By evening they reached the village. They were tired from riding a long way. They went to an inn to rest and sleep for the night.
Continue on in your own words from the Bible which the children can see in your lap........



IDEAS FOR ADVENT & CHRISTMAS

For Christmas Eve or Christmas Day
1) Invite guests who have no family & nowhere to go.
2) Have children create a Christmas centerpiece.
3) Tell the story of the first Christmas (above).
4) Read the Christmas story from the Bible together before the meal.
5) SING Christmas Carols together!
6) Have the children enact the Christmas story as a drama, complete with simple costumes




Remember To Hug Your Child Today


Old Gift Idea for Children
Make plaster-of-paris hand prints each Christmas season. Paint with bright colors, shellac, or spray with fixative. Put name, year and age on back. Save from year to year.


"The only blind person
at Christmastime is he who has not
Christmas in his heart."
Helen Keller

| Home | Links | | Contact |

This website &/or newsletter & anyone connected with it does not provide medical advice, diagnosis or treatment
see additional info:
©Copyright© MamaGoose.com © 1999-2017 All rights reserved
e-mail: adella@designmasterworks.com


FAMILY FUN CORNER
DECEMBER


As we think of ways to make Christmas meaningful in the home
Family Christmas Idess

1) Prepare Photo Game to play now until Christmas (Advent).
Select 50 snapshots from your family album.
On back of each photo, write a family anecdote question like: What is Grandma's full name? What happened to gr gr grandfather_?
Shuffle the photos & stack them, picture side up.
Family members take turns drawing one & trying to answer the question.

2) Draw names within the family.
All during Advent do special favors for the secret friend whose name was received.
On little little Christmas Eve (Dec 22) the names are revealed if not already guessed.

3.) The children begin making their creative, original Christmas cards for relatives & friends.

4) The children begin making or helping select one ornament for 2007 to represent some good family thing to remember about the year.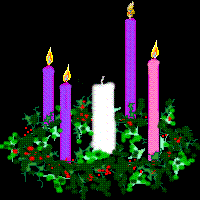 THE ADVENT WREATH

One of the most beautiful traditions of the Advent Season is the lighting of the Advent Wreath. The lighting of the candles symbolizes Christ's coming bringing light into a darkened world.
The first Sunday in Advent begins the nearest Sunday to November 30.
Place 4 candles, one for each of the 4 weeks till Christmas, around evergreens (you can purchase or make a candle form) & a big white candle in the center to be lit Christmas Day. Place it on a board or tray to enable mobility. Light one candle the 1st week of advent, 2 candles the second week, etc, for each of the 4 weeks of Christmas, reading portions of the Christmas story each time, with family prayer
"The family that prays together stays together." On Christmas Day the whole story can be dramatized with people or puppets.